Adding a puppy to your home is a decision not to be taken lightly, a puppy is like having a new baby in the home.
It takes time and love and patience to train your puppy to become a loving, well behaved member of your home. Ideally you do need to be home during the puppies early few months, part time at the least, or full time at home is ideal. Puppies need training and time put into them to get the best from your new puppy. Goldens are intelligent, gentle natured dogs, they are easy to train and they are great with children and families. Golden puppies are very adaptable to their new homes and usually settle in very well with minimal trouble
I am happy to discuss ownership of a new addition to your home, and advise if your lifestyle is suitable for a Golden puppy. A securely fenced yard is a must, if you have an inground pool this must be fenced off for the puppies initial few months.
Please feel free to discuss your personal situation if you are thinking of adding a new Montego baby to your home.
Montego puppies, are registered, vaccinated, microchipped, wormed, vet checked at 6 weeks of age. They go home with a puppy information folder, copies of all parents health certificates, vaccination certificate, registration certificate and food for the first few days.
---
All stock has been hip/Eye/Heart/Elbow Screened for suitablity for breeding purposes
Enquiries to Rose.
---
A typical Montego Puppy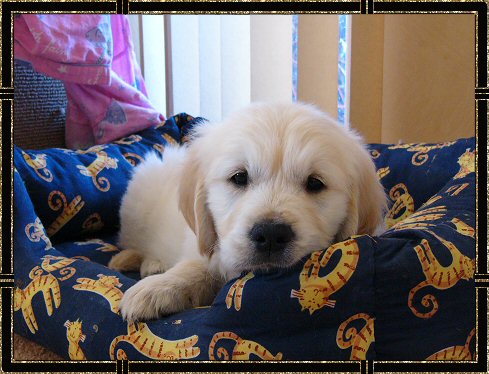 "Branson" enjoying the good life
"Branson" - taking a break from Gardening