Aust Ch. Skyebelle Maurice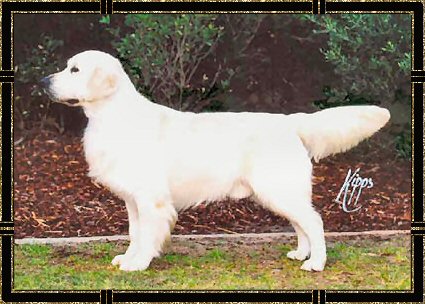 "Maurice" was my once in a lifetime dog. He did everything for me, won is first CC at 6 months and one day and was placed at every Golden Show he went into.
Winning Best in Show NSW GRC Show under Breed Specialist Mrs Marilyn Morphett, Runner Up Best in Show NSW GRC under English Specialist Mr Bernard Catterall "Golmas" Goldens.
Runner Up Best in Show GRC of SA under Mrs Margaret Hean - breed Specialist, he was a Multi Best in Group Winner under Gundog Specialist from many states in Australia.

My darling boy - May you rest in Peace - always in my heart and mind.
Montego Big Band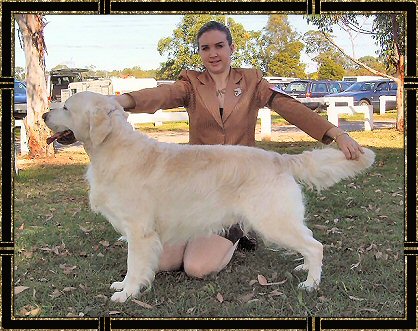 'Bailey" had a chequered start to his life, having 3 homes in 18 months. He came home to where he was bred and due to me being unable to keep him with me, he was placed with Tiffany and Stuart, just down the road from Montego. Tiff and Stuart already had one of my Montego Girls and wanted a companion for Miss Murphy. They took Bailey into their home and hearts and loved him till the end. Bailey was taken to Rainbow Bridge far too early. But we like to think he is romping up there with his Dad, Aust NZ Ch. Dalius Bandmaster(Imp UK)and his kennel mate Maurice. Rest in Peace my beautiful man.

Loved and remembered by all who knew him.

Ch Montego Phantom Opera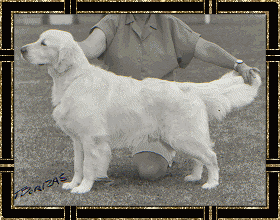 "Sean" was the most wonderful dog for our kennels. He was outstanding as a sire producing multiple Australian Champions, Best in Group winners, multiple Royal class winners, including BOB, RUBIG, at Sydney Royal 1997. Sadly, he passed away on 30/3/2001 aged 9 years. He is always in our thoughts and his legacy is carried on through his beautiful sons and daughters.

Grand Champion Montego Special Edition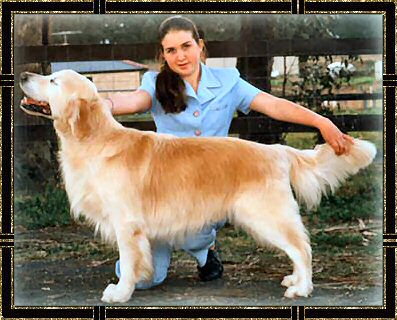 Monty holds a special place in our hearts being our first Grand Champion. He was brought out of retirement at 6 1/2 years and campaigned to the final points needed by our daughter Alice in the competitive Sydney show scene. He's a winner of 10 Best Exhibit In Group Awards, Multi In show and In Group wins and has a Runner-Up Best in Show to his credit.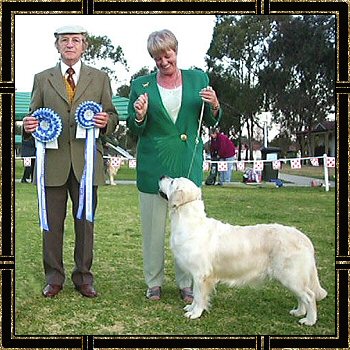 Ch Montego Christobelle
"Christobelle" was sent to my good friend Anne Kumar of Clairedoree Kennels, where she has been a great asset to Anne's Kennels. She is superbly bred from Ch Neighan New Adventure (UK) C,D, "Hamish" out of Ch. Goldtreve Camrose Belle (AI) who is a daughter of the immortal Eng. Ch. Camrose Cabus Christopher.
She has had a lovely show career culminating in Bitch CC and Runner Up Best in Show at the NSW GRC Specialty under Breed Specialist from the UK Mr Fred Hayton (Bellemount Kennels). Christobelle was also Bitch CC and BOB at the 2004 Darwin Royal along with her great mate Ch. Skyebelle Maurice who took Dog CC.
She has produced some lovely stock for Clairedoree and and we wish Anne all the best for the future with her "Princess"
Ch Montego Be My Valentine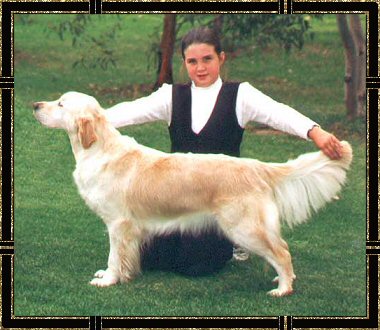 "Valentine" is shared with Rose and Alice and she was shown mainly by Alice gaining her title with ease and was used extensively as a Junior Handler dog. With her sweet disposition and tractability she was a favourite with all the Junior Handler Kids. She qualified Alice for the State Finals and competed at Sydney Royal Handler Classes. She also qualified many other youngsters over the years.
Ch Goldtreve Camrose Star AI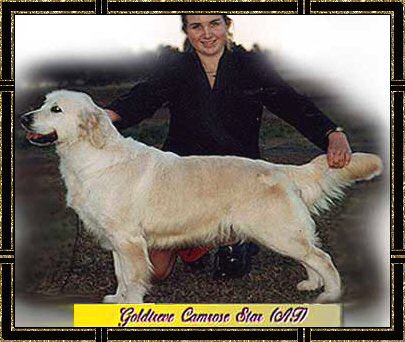 "Star" has now retired from active duty and lives a life of luxury. She is the daughter of Eng. Ch. Camrose Cabus Christopher and Ch. Montego Maple Syrup. She was a great showgirl gained her title easily. She was also a super brood bitch producing two Champions in Ch. Montego Curtain Call and Ch. Montego Grand Edition C.D.
Ch Goldtreve Camrose Belle AI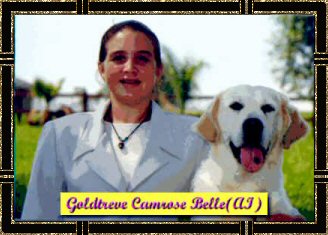 "Belle" is also retired and lives as a companion and treasured family pet. She is the full sister to Starand has produced wonderful progeny with her super temperament and soundness.

Her Progeny are:

Ch. Montego Airs and Graces
Ch. Montego Christobelle
Ch. Montego Mitey Classy C.D. E.T.
Ch. Montego The Swagman
Ch. Montego Absolute Bliss
Ch. Montego Heavenly Bliss
Ch Montego Maple Syrup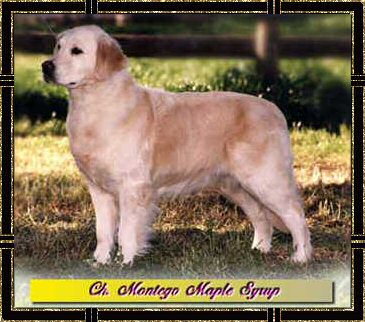 "Ashleigh" made history when she produced 9 healthy puppies via frozen semen to Ch. Camrose Cabus Christopher, 4 gained their Australian Championships, with one going on to become a Grand Champion. Ashleigh's influence is in many pedigrees Australia Wide, she is now running free at Rainbow Bridge, aged 14 years. Rest in Peace our gorgeous girl, sadly missed by all at Montego and the Coye family who loved her for the past 9 years. Vale Ashleigh.
Ch Montego Skys The Limit
"Sky" was a lovely show bitch for this kennel winning many group awards and Best of Breed. She is the dam of Montego Miranda CD and she is now retired to a life of luxury.
Champion Kindleigh Alencon Lace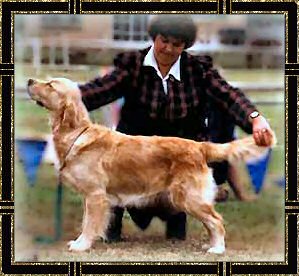 Katie was a fabulous show bitch for our kennels. A Best In Group winner, Multi-In Group and In Show winner. She is the dam of two Australian Champions including our current stud dog Ch Montego Phantom Opera. Katie has just passed away at 11 years of age.

Champion Montego Maid In Heaven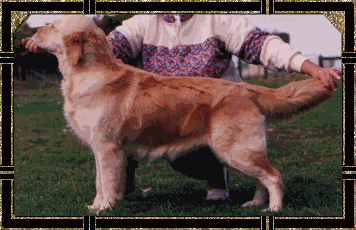 Carrie has had a stunning show career including 3 Puppy In Shows in three days, multiple In Group awards. She was a joy to show, always giving her best and her temperament was impecible. Her show career was capped off by fame as a brood bitch - she is the dam of seven Australian Champions, including:
Gd Ch Montego Special Edition
Ch Montego Hearts N Roses
Ch Montego Be My Valentine
Ch Montego Moonshiner
Ch Montego Allusive Lover
Ch Montego Just Crusing
Ch Montego Made For Keeps
She will be forever in our hearts.
Champion Montego Moonshiner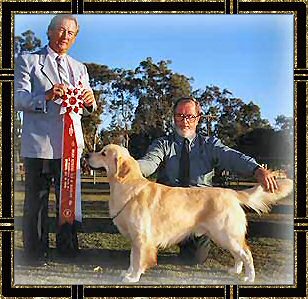 Tego was sold to Queensland to Dave and Margaret McKitterick. His successful show career was capped off with Dog CC at the Queensland Golden Retriever Club Show. He is the sire of Australian Champions. He is the full brother to Ch Montego Be My Valentine, Ch Montego Hearts N Roses, Gd Ch Montego Special Edition.
Champion Montego Allusive Lover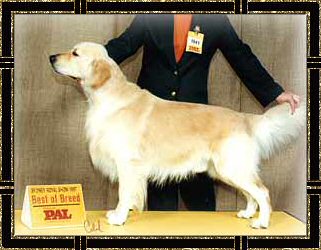 Monty is owned by Kathy Tomlinson. He is a Group winner including Runner Up Best Exhibit in Group and his crowning glory was Best of Breed and Runner Up Best In Group at Sydney Royal 1997 over 180 Goldens. Monty is a much treasured family member of the Tomlinson household and is Cathy's son Richard's, constant companion.

Champion Montego Made For Keeps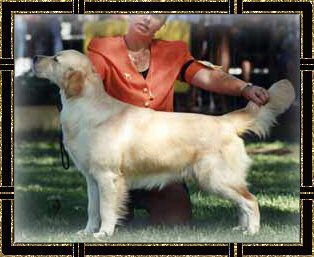 Maddison was sold to Danielle Hall of Goldrush Kennels. She quickly gained her Australian Championship with three Best In Groups from the puppy class, with multiple In Group and In Show awards including 1st place Junior Bitch Class Sydney Royal.
Champion Montego High N Mighty
Gypsy was sold to Debbie Hardie to establish her kennels. At her very first show she was awarded Best Baby Puppy In Show much to Debbie's delight as a complete novice exhibitor. She quickly gained her Australian Championship with many Group and In Show awards and produced Champion stock for the kennels.
Montego Maid of Honour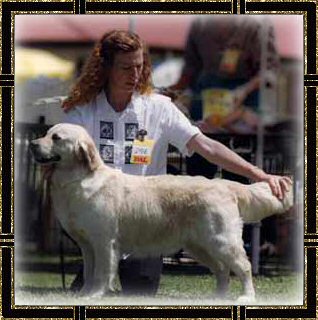 Abby was purchased by Cath Walker of Ballinrobe Kennels. She became the foundation for this kennel producing quality stock. Her progeny have been the foundation for Goldensun Kennels. She was awarded Best Baby Puppy In Show at her first and several subsequent outings. She is a full sister to Ch Montego High N Mighty (above) and Ch Montego Maid In Heaven. At 12 years she is a much loved and treasured member of the Walker household.

Ch. Montego Miranda C.D.X.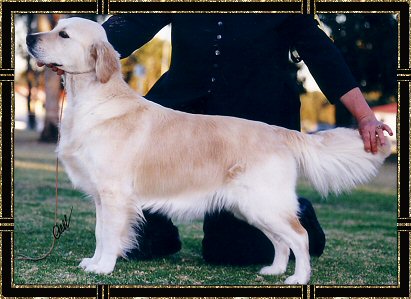 Ch Montego Miranda CDX winning Open Bitch at GR National, Perth, 2002.
Judge Mrs. Heather Morse (Xanthos Kennels) said of Miranda, "Managed to get infront of this top flight trio, and she actually pushed very hard for more. She has excellent conformation, straight out of the text book, clean angles, and good muscle tone, A delight to go over, and a credit to her owner/breeder."
"Mira" was purchased by Kylie for show and obedience and has an outstanding career to date. She has 2 ''Puppy in Show All Breeds'' to her credit twice class winner at Sydney Royal, Junior Bitch and Intermediate Bitch at consecutive Royals- Best Intermediate in Show at GRC May 2000 Show. Best in Group Winner and has now gained her CD title. Mirra has now gained her Australian Championship, as well as her CDX title. Brains and Beauty do go together! Mirra wins Open Bitch class and reserve Challenge at NSW Golden Retriever show Sept 2002.
Well Done Kylie and Mira!
NSW Golden Retriever Show May 2005. Results - 3rd Place Veteran Bitch.

Critique from Judge Mrs Marilyn Morphett (Breed Specialist) Qld

"A very pretty feminine bitch. Good bone, Correct level topline, well put together. Moved soundly."

Ch Montego Mity Classy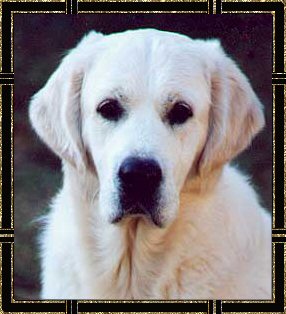 "Danny" was sold to S.A. as a show dog where he quickly gained his Australian Championship. He is now owned by Jane Braithwaite and Tony Haynes. Danny gained his E.T. title and is also working well in Gundog Obedience and Retrieving work. He qualified at the NSW National Show in the Gundog Working Test. Well done Tony, Jane and Danny.
"Danny" is making his mark as a sire producing quality puppies. With his daughter winning 2nd place in the Puppy Sweepstakes at 2004 Adelaide Royal Show from a huge entry.
Ch Cals Miss Carlew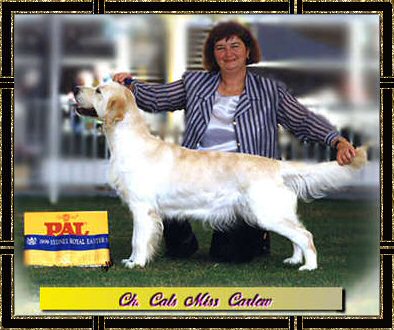 "Jazz" was bred by Lindsay and Suzanne Kain and was a valuable addition to our team of bitches. She was Reserve CC at Sydney Royal, along with multi In-Group and Best of Breed awards. Jazz is now a beloved family pet.
Ch Montego Hearts and Roses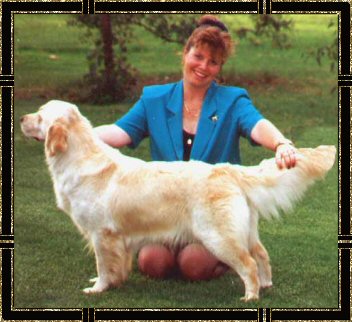 "Darcy" was sold to Danielle Hall as a foundation bitch for her Goldrush Kennels. Darcy proved herself worthy to this by producing two champions in her first litter, which included challenge bitch at Sydney Royal. She now lives a life of luxury on the Gold Coast as a treasured memeber of Danielle's family.
Skyebelle Babette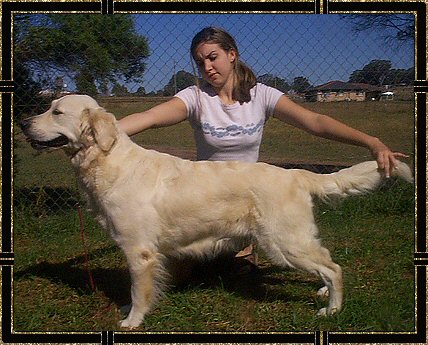 Sire: Ch. Montego Phantom Opera ~ Dam: Montego Ring My Belle
"Molly" is a great asset to our kennel, as she is the full sister to our Best In Show winner Ch. Skyebelle Maurice. An outstanding strong girl who is a joy to have around.