Over the years Montego has stood at stud some influencial dogs including:


Vanrose Gay Gordon (Imp NZ)
Gaewynd Eldorado
Ch Montego Mesqual
Ch Goldtreve Peppacorn
Ch Montego Phantom Opera
Ch Willowlawn Cast a Spell (Imp UK)
Aust NZ Ch Montego Pendragon's Quest (Imp NZ)
Ch Montego Grand Edition CD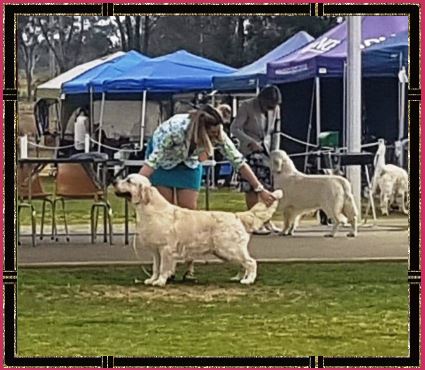 MONTEGO BACK TO THE FUTURE (A.I.) "VAN"

Sire: Aust/NZ Ch. Montego Pendragons Quest x Dam: Montego Truly Yours (A.I.)


"Van" is our newest stud dog, proven sire and is maturing up very nicely

He has excellent Health test results
Hips 2/6
Elbows 0/0
Clear Eyes/Heart
Icta Clear via Parentage

All enquiries for stud work to Rose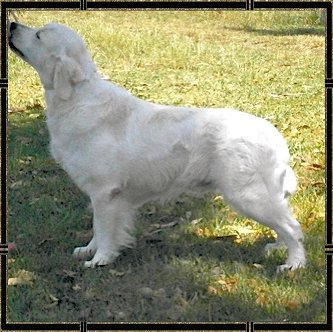 Serbian/Montenegro Jnr Ch. Golden Romance Dutch Storm (Imp. Serbia) ~ "Tango"
Sire: International Ch. Noah of the Hellacious Acres ~ Dam: International Ch. Golden Romance Star Light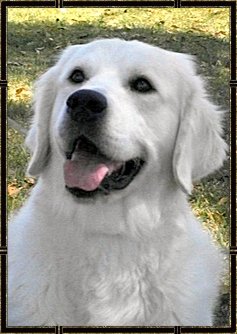 "Tango" has joined Montego in 2015 and has settled in well with us. A gentle boy with outstanding Health Results he has sired some wonderful progeny. He is available at stud to approved bitches

Gaining his Junior Titles in Serbia and Montenegro with ease. We thank his breeder Ana from Golden Romance Kennels for allowing him to come to Australia.

Hips 2/3
Elbows 0/0
Clear Eyes
Clear Heart
Clear ICTA
Clear PRA 1
Clear PRA 2
Clear MD
Jnr Champion of Serbia, Macedonia, Moldova, Azerbaijan, Montenegro, San Marino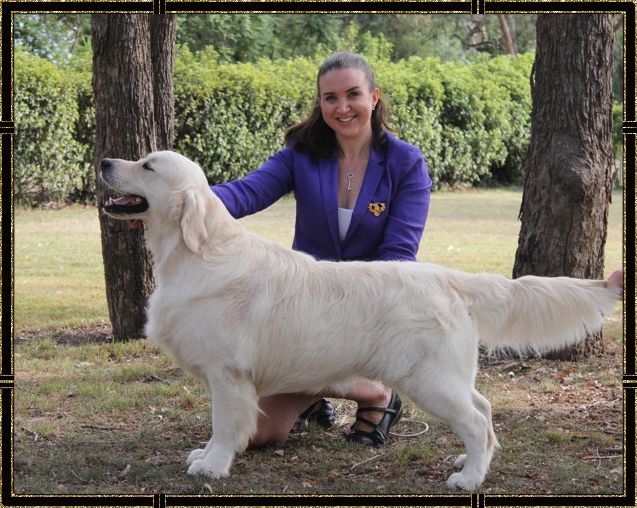 Jnr Ch. Serbia, Macedonia, Moldova, Montenegro, San Marino, Azerbajean
RAMCHAINE FAN DABBY DOZY (Imp Netherlands) - "Fabio"
Sire: nt ch.Jnr Ndlds/German Ch. German Ch. Netherlands Ch. Danish Ch. VDH Champion Beethoven of the Hellacious Acres ~ Dam: Int.Ch.Netherlands Ch., Luxembourg Ch. German Ch. Junior Warrant, 2 UK CC's Velvenya Vogue of Ramchaine
"Fabio" would be the most titled Golden Retriever import to come to Australia, holding six Jnr Championships from six countries His pedigree incorporates the top dogs of Europe and UK.

"Fabio" is a Best in Show all Breeds winner and a Runner Up Best in Show (all breeds) in Europe (photo shows him being awarded Best In Show)

His mother is the outstanding bitch, International Show Champion, Luxembourg, Netherlands and German, VDH Champion Velvenya Vogue of Ramchaine, "Vogue" is also the winner of 2 Engish CC's AND holder of her JW.

Fabio has completed his Health Checks with the following outstanding results:

2/3 Hips
0/0 Elbows
clear Eye Cert
Clear Heart Cert
ICTA Certificate

"Fabio" is co-owned with Danielle Hall - "Goldrush" Golden Retriever Kennel.
We look forward to his future with us. He is a proven Stud dog.
All enquires for Fabio to Rose Easton - Montego kennels (Established 1969).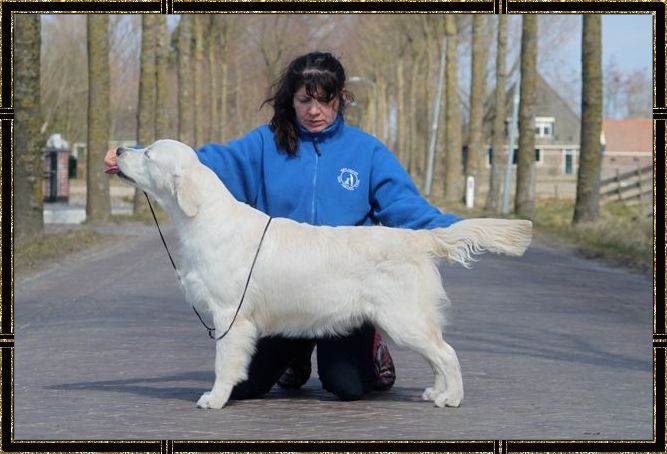 LEONARDO OF THE HELLACIOUS ACRES (Imported the Netherlands) - "LEO"
Sire: International Champion Beethoven of the Hellacious ~ Dam: Ch. Jacquetta of the Hellacious Acres
Clear heart Certificate May 2013
(Photo at 9 months of age before leaving his breeders)


We welcome our gorgeous boy to Australia, Bred in the Purple at the world renown "Hellacious Acres Kennels" in the Netherlands. We are forever grateful to Bart and Charmaine for the opportunity to own Leonardo.

He is a dream come true, standing at stud at Montego kennels and Goldrush Kennels Qld, we are thrilled to have him with us.

Leo has now completed his Health Testing with Excellent Results:

Hips 2/2
Elbows 0/0
Clear Heart
Clear Eyes
ICTA Certified

Leo is now available at Stud to approved bitches.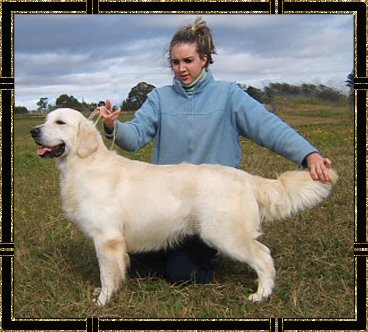 Sire: Goldtreve Gamekeeper - Dam: Montego Vanity Fair
Hip Score 0/3 ~ Elbows 0/0 Clear ~ Eye Cert, Clear Heart Certificate
Ichtyosis Free
We would like to welcome "Churchill" to Montego Kennels. We thank Margaret Kerr of Inniscroft Kennels Christchurch New Zealand for this opportunity to bring back to Australia these lovely bloodlines. Watch this page for his development, he will be at stud in the future once passing all his health certification. Enquiries welcomed.
"Churchill" is now all grown up at 2 and half years of age and is an Australian Champion with some splendid wins along the way, including Best in Group, Runner Up Best in Group and In Show Awards, placing at Specialities. He is a super stud dog siring lovely typey puppies with a 100% success rate in his stud work - all bitches bred to him have had puppies!!! He has National, Specialty and Championship 1st place winners He is at stud to approved bitches.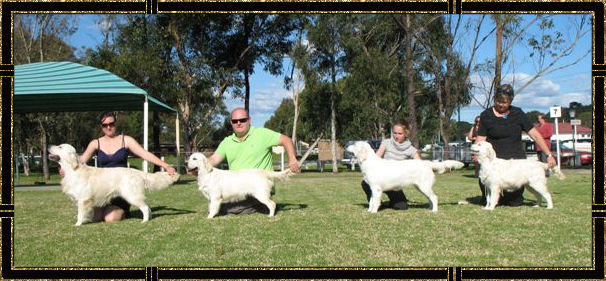 Inniscroft Keep the Faith with some of his winning progeny at the NSW Golden Retriever Show under a Breed Specialist Judge
Left to Right:
Churchill, Montego Eye Candy (1st Place Minor Puppy Bitch) Bozgold Hot Gossip (2nd Place Baby Bitch),
Montego Keep the Dream (3rd Place Baby Bitch).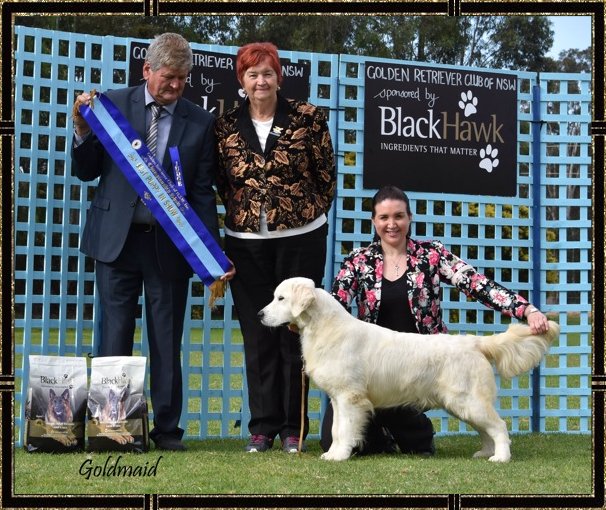 Sire: Int. Ch. Majik Truth or Dare x Ch. Montego Dream a Little Dream
"Larz" is the son of the Nigel the top stud in the world. He Has amazing Health Tests Results and is a Proven sire.
Winner of Puppy in Show under Gundog Specialist Judge at the Golden Retriever Club Show we look forward to his future here at Montego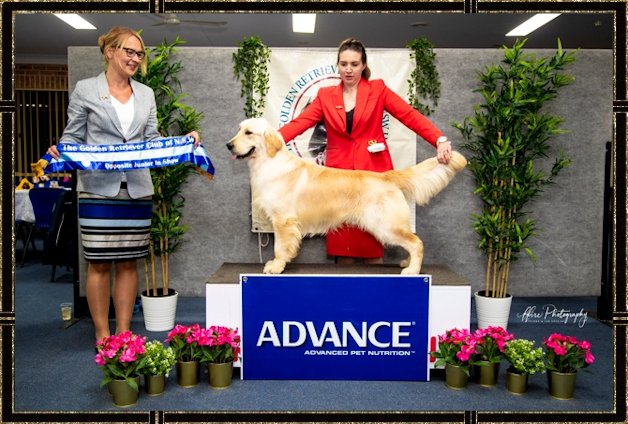 Int Ch. Herewildys Michaelangelo x Goldbrior To Those That Wait
"Vinnie" has had limited showing but has acquited himself well he was Opposite Minor Puppy in Show at the September 2017 GRC under breed specialist Mrs M Morphett. Due to my health issues he has not been out much but was awarded Opposite Junior in Show at the August 2018 GRC under a Golden Finnish Specialist He is now a proven sire and has excellent Health Test Results.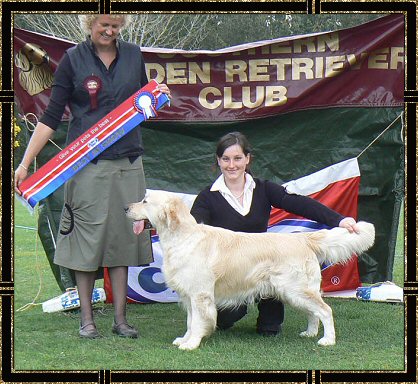 Our super boy Sean also left us late 2012 - a great boy, with a super nature, sire of Champions both here and abroad. Gone but NEVER forgotten.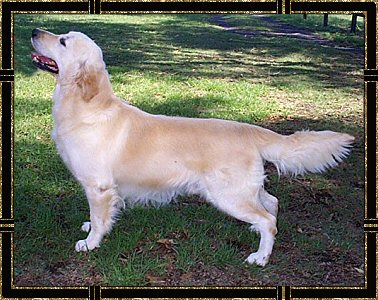 Sire: ENGLISH CH. Xanthos Tom Foolery J.W. 1cc. (Top puppy in UK in '99) - Dam: Willowlawn The Gypsy Queen
We lost our darling boy last year - R.I.P. Merlin - forever running free at Rainbow Bridge, he was an outstanding stud dog and our lovely boy - Never far from our thoughts.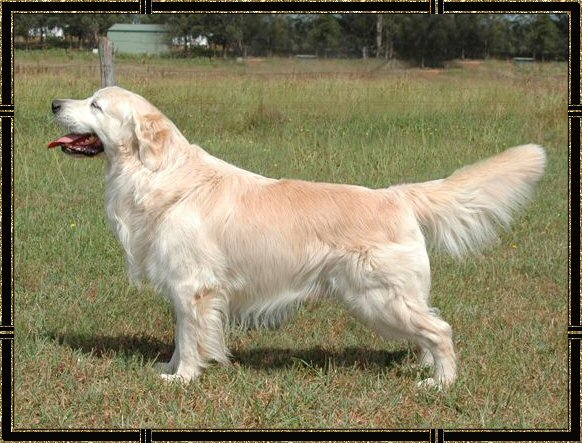 Sire: Grand Champion Montego Special Edition - Dam: Aust Champion Goldtreve Camrose Star (AI)
Hamish was lost to us also late 2012 - a sire of champions and a great dog, love and adored by Jenny and Allan Prestide, - Always in our hearts.


Sire: NZ Ch. Inniscroft Diamonds R Trumps - Dam: Inniscroft Southern Skye (Imp NZ)
Hip Score 6/7 Elbows 0/0
"Riley" is our up and coming young dog from our IID litter, born last August, pictured at 9 months of age (June 2009). He has a clear Eye Cert and a Clear Heart. Cert.

We look forward to his future here at Montego Kennels.

Sire: Supreme Grand Ch. Chaleur Valentino - Dam: Ch. Brackendell Diamond Lace
Hips 2/3 Elbows 0/0
Clear Eyes Clear Heart
Icthoysis - Carrier
Hugo has now completed all health testing with excellent results. H/S 2/3, Elbows 0/0, Clear Eyes/Heart. He is available at stud and is a proven sire,